Child Custody Attorney in Canonsburg, PA

Your kids mean the world to you. During divorce proceedings, you want to shield them from as much pain as possible. The Law Offices of MariAnn Hathaway is here to make the process of adoption or child custody in Canonsburg, PA, as easy and stress-free for everyone involved, including parents, children, and other family members.
Establishing Custody
Divorce is difficult to go through, especially when you have children. Determining child custody is frequently the most difficult aspect of a divorce. The stress related to child custody disputes is further exacerbated by common inaccurate information and assumptions. Here are some of the most common myths and misconceptions that child custody lawyers encounter:
Myth - Children get to decide where they live as soon as they become teenagers.

Reality - Courts will consider a teenager's preferences, but this is only one of 16 factors that the courts consider. The child's preferences will only be given due consideration if they are well-reasoned as opposed to being based on a whim.

Myth - Mothers are always awarded custody.

Reality - Pennsylvania courts make decisions in the best interests of the children. It has become increasingly common to keep both parents involved whenever possible.

Myth - The parent who stays in the marital residence (i.e., keeps the house) will have an advantage in the custody dispute.

Reality - This is not true, especially in Washington County. Other considerations are far more important than the continuity of a child's residence.

Myth - Exposure to domestic violence has only a small, short-term effect on kids.

Reality - Children can be and often are seriously traumatized by seeing/hearing one parent abuse the other. The effects may last years and could require therapy.
Adoption Legal Services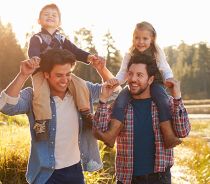 When adoption is brought up, many people imagine adopting a baby from an international agency. While this is part of the adoption landscape, there are other options that apply to varying situations.
The structure of the 'typical' American family is changing making adoption an important method and tool for protecting relationships that may not otherwise be legally recognized. MariAnn Hathaway is ready to help your family through a variety of adoption scenarios, including:
Step-Parents Adopting Minor Step-Children

Grandparents Adopting Grandchildren

Same-Sex Couples Adopting Children

Step-Parents Adopting Adult Step-Children for Estate Planning Purposes
For compassionate and reliable professional assistance with the process of adoption, contact child custody attorney MariAnn Hathaway in Canonsburg, Pennsylvania, today.